I have never been into a royal event as I have been into this one. Ever. And I am trying to figure out why. Lord knows I have seen and heard of a few royal events in my time-but nothing has captured my heart, interest or imagination as much as this one has. Follow me on this journey as I try to breakdown my fascination.
1. What should have been the Royal Weddings of all royal weddings for me – I remember years ago seeing the first royal wedding for people of my generation.
I remember that I was working on a take home final exam throughout the night and seeing the wedding on the ABCnews/yahoo livestream video.  I remember Barbara Walters taking a pause from what she was saying to describe the wedding dress as Kate exited the car. I remember the keen focus in Ms. Walters' voice! I remember how David Muir and other journalists took personal pictures from the wedding!
There was so much pomp circumstance, I remember when I saw different heads of state there. I remember the inside of Westminster Abbey. I remember the kiss (or rather kisses) at the balcony of the Buckingham palace. I remember the grand elegance of Kate Middleton's dress.
There was enough pomp and circumstance to last me a lifetime. Then why am I so into this one??
2. Then there was one.
My grandfather died on August 31st, 1997- the same day as Princess Diana. As my father said, "The whole world is in mourning as we are mourning." It was a gray, deary time for us. During that time I remember pouring through People magazines and a Princess Diana Commerative books learning more about Princess Diana and her amazing journey (and dresses). I think focusing on Diana's glamorous pictures bonded my father and me to my grandfather even more.
I remember my father telling me how it was like to watch the royal wedding in 1981 and just the grand majesty and fairy tale of it all! It was like living through July 29th, 1981 all over again! I also remember him reminiscing about how Dan Rather managed to make  a joke about America in all the circumstance and how if the U.K played their cards right then this (i.e the US) would have been the U.K's too! Funny what people remember. ( I also just realized that my Dad remembered Dan Rather and I remember David Muir/Barbara Walters).
This is the first royal wedding where those before me weren't here.
Some people eat for three ( i.e. if you are pregnant with twins) and now I have to watch for three. Grandpa and Daddy I miss you!
3. This time I really have been in a hell, so I need this. 
I still remember when this Newsweek  magazine cover came into my home, and thought that the title was so cheesy. True, there was a recession going on at that time, the Arab Spring happened, and many other hellish things. But, hellish things are known to happen at any given living moment!  The good old days were never really that good anyway, so I am not sure about what hell the author of this article is referring to.
But, this time around I truly do feel, "In a world gone to hell, thank God for a wedding." Aside from the hell American politics are in, I do feel that since my father died I have been in a hell.
When my father died- the funeral home committed some terrible blunders. I kid you not.  The guardianship company (they were in charge of managing his health and finances) were not returning my calls/emails. When I did speak to the director she told me to have a fucking life. It has been hard to figure out everything by myself. It has been a living hell for sometime.
So, I needed this wedding.
4. As the Royal Gift Shop shows:
This is a wedding for both sides of the pond! And this makes me freaking proud to be an American.
An American has joined the royal family. I love being a proud patriotic American. I love saying the pledge of allegiance, thanking a vet, and singing the national anthem. Seeing, one of our own being celebrated and exalted makes me beam,especially as she is proudly accepted into the establishment of another country.  After all 80 years ago when another American tried to enter into the same establishment of another country- it was unthinkable.
5. Meghan Markle's wedding  would make my Grandfather proud.. according to my Dad.
Some years ago I spoke to my father on the phone and I told him, " Edward the VII had to abdicate the thrown because he wanted to marry a Wallis Simpson, a thirty-something American divorcee…" before I could finish my father had a teary-mom-moment, and said "Oh… your grandfather would have been so happy to hear this!!!"
My grandfather was partially a British citizen and loved history. So, to my father hearing his daughter discuss something historical and British was a beaming moment! And having Meghan Markle, a 30-something American divorcee marry into the Royal family is a full circle moment. Not just for history but a full circle moment I can share with my Pa and Grandpa in heaven.
6.  I think People magazine's title said it all: See Prince Charles Walk Meghan Markle Down the Aisle After Heartbreak with Her Dad
This one is is heart breaking for me. Although, Meghan does have a father- he couldn't walk her down the aisle.  Well, now that my Dad has transitioned ( I have a harder time saying g.o.n.e) I literally don't have a father to walk me down the aisle.
I am not engaged or anything- but it is something that has crossed my mind since the death. I thought recently about a family friend- who has been a only devoutly loyal person to me since Pa died.
But, maybe I could tear a page out of Meghan Markle's book for inspiration. Hint, hint!
7. Meghan Markle makes me want to get married.
Seeing Ms. Markle drive with her mother to the church, hear the church bells, as she ascended the steps of the chapel, and hear Handel's music as she started her walk.. I don't know what it is- but now I am inspired to get married!!!
This is huge coming from me because as a little girl I never wanted to play dress-up as a bride. I never wanted to be a bride for Halloween or pretend. I never bought Barbie wedding dresses for my Barbies. I screamed whenever people said that when I was older I could get married.
I was super, super girly as a child-pink and dolls everywhere- but never into weddings. All of this carried over into my life as an adult.
Until a three years ago I had never knew what a wedding party was. And my whole life I have been to 1.5 weddings!
BUT Now, I have wedding fever. Thanks to Ms. Markle:)
Oh.. and could it be a mere coincidence that when I finally woke up in the morning to see the wedding it was 6:36 am- the minute she said I do:) 
8. I still cannot figure out what is it about this woman??!!!
I am like this toothless grinning boy on the inside- and whenever I think or see Meghan Markle! But, I am not sure why?
The world already had a princess before Meghan Markle came along and her name is Kate Middleton.  Kate Middleton is a classical natural beauty.
Her wedding was the first MAJOR royal event in thirty years.  The first.
Her wedding dress was the epitome of tradition and lace and in some ways more of a dazzling, intricate spectacle than Meghan's.
She broke convention by being a commoner and marrying into the royal family. She put some major serious holes into the British class structure. And heck she even has a name to match her middle class heritage: Middleton!!
I mean I always liked her. I saw the 20/20 wedding special about her at least ten times. And how her mother transformed her family into upper middle-classdom with their business, Party Pieces. And how one commentator said about Kate, " Kate is a girl who has never had a toe out of line. She will join in on the fun. But, at a party she will have one drink instead of three."
Yet, I don't fully know if she ever fully did it for me.  I remember being annoyed since she got married at how people.com always showcased something about her online. Like why do I need to know about her pantyhose..again?
And I had mixed feelings about the monarchy in the U.K.
With Meghan Markle however, I am mesmerized by everything this woman does so far. There is something captivating about her.
Is it that she is American? Or a modern young woman (and 36 is young to all you 5 year olds) with a free, hip, life before royalhood ( with pics and a former blog as evidence)?
Is it because she is the most gorgeous looking royal? Ironically, plastic surgeons have said that there has been a demand in her nose albeit that is imperfectly perfect! By some standards, Kate's larger eyes and shorter nose might be deemed more perfect.
Or it her boldness that made one British onlooker who met her, " She is our Diana?" Diana was known for her boldness after all, having her own sense of style and for looking into causes nobody else did. Meghan wearing sleeveless dresses for interviews, no pantyhose during engagement announcements, and discussing how menstruation create barriers for third-world girls' progress seems to be doing the same kind of bold.
I think Meghan Markle has some sort of charisma. After all, she was in the movie and television star! Just as Kate Middleton's name denoted her middle class heritage Meghan Markle with the Sparkle's last name reminds you of her sparklingness!
I wonder what my father would say about her? Would he think she is as beautiful and captivating as I find her? Or would he think that Kate Middleton is the ultimate regal highness? What would my anglophile Grandpa think of her and her Amerincan-ness?
I think there is something about Meghan Markle's warmth and personality that lends on aura around her, to the people she surrounds, and whatever ensemble she may don. After all how is it possible that she impeccably charms everyone?
People magazine said it the best on June 14, 2018 with the headlines:
We've Never Seen the Queen Smile Like This! See Her Chemistry with Meghan Markle in Action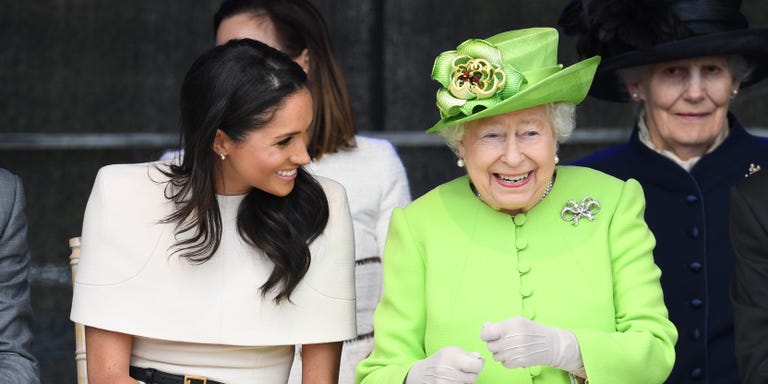 Or for that matter Prince Charles, too!
9. I lied there wasn't there wasn't just one. There is another: Thumper:)
Like the name of the blog says..  A life after a death does include bunnies. Even on the day of a royal wedding and the day souvenirs arrive!
So, even though Pa and Grandpa aren't here- I have her!
10. Meghan Markle fever continues.  I keep staring at pics of her like this:
She stole the show with those flouncy curls and and sweet-as-candy dress
11. And in the form of souvenirs:
12. Watching Television movies of her at home:
13.  Parting Thoughts on the Royal Wedding
Milestones Mean More Now Than Meritocracy– I remember when Kate Middleton got married, I was like what is she doing that is special? Did she and Prince William find a cure for cancer? What did they do that was special? Celebrating the Oscars is amazing- we celebrate people's talents. Here, we just celebrate wealth, and tradition- and though it's amazing to see- some people never question it.
But now, perhaps, after a loss, I understand that the monarchy does do a lot. They are great cultural ambassadors, they tie us to the past, and can be nice something nice to stare at.  And it's okay to look at things that gives us some pomp, and circumstance.
And I realized that in life we shouldn't always just judge people on how much they can achieve,  what cool things they have done, and how they are busy.
It is okay to just be. And to celebrate life's milestones such as weddings.
Time stood Still-– When huge events such as this happen- one always remembers where they were, what they were doing, and who they were with (or in my case it was who I wasn't with).
I have to be honest- it didn't matter what celebrity was posting a nude selfie or going to a movie premiere. Or what else was happening in the world outside of me. Nothing mattered to have my focus bathed in the foliage of this wedding.
And I don't know about you- but in this short attention lifespan world we have clicked ourselves into- everything else was white noise.
It is important to be a part of events like this in life.
Cherry Blossom/Cotton Candy Clouds and the Gift that Keeps on Giving-I remember I didn't want the May 19th or the weekend of May 19th to end. I didn't want to go back into the real world. Visually the wedding was so majestic, yet light and airy that it was like looking at Cherry blossoms. I remember when she entered the church and Handel's music played I felt that I was floating in the heavens on cotton candy clouds. There was a solemnity of the whole process- but there was an unique regal awe and levity to it.
I remember reporters saying that they felt they were in heavens when she entered the church and the music played, and that some of them cried. So, it wasn't just me,
Years ago, in a 20/20 special it said that the Hollywood celebrities come and go-but Kate Middleton is the real deal; there is only one monarchy.
Well, in that same token there is only one majestic monarchy and one very regal, real, Meghan Markle.
And even though the Wedding is over both the monarchy, Meghan Markle, and their spectacle will not dim out. They are the gifts that keep on giving and helps many, including me, as we live in the shadows of death, bureaucracy and the other battles that be.